It's Boring Being a Cat
Introducing "It's Boring Being a Cat,"
a new picture book written by Adam Bestwick and illustrated by Chris Cady.
As part of our Autumn season publishing list, Adam and Chris have been collaborating together on a new series of comedic picture books, launching with 'It's Boring Being a Cat'.
The story follows a pair of pets – a cat and dog – who are engaged in conversation. Cat is very much fed up with his life and would quite like to be something different – something exciting and aspirational! …like a lion, a polar bear or maybe even a horse. But Dog somehow always manages to pour cold water on Cat's ideas, until eventually, he learns his very (soggy) lesson, that being a cat is cool!

'It's Boring Being a Cat' is a 32-page rhyming picture book that started out quite differently though, as Adam explains: "The idea was even more conceptual to begin with. The working title was 'Marvin's Marvellous Makeovers' and it centred around the premise that animals could go to a specialist boutique, and with the help of mechanical parts and make-up, they could 'try on' being another animal."
Adam explained, "In chatting with the team, the idea became distilled and replaced with fantasy, so that Cat could become a different animal in his imagination, and assume his new life.
In development, and during the writing process, the challenge was to look for connections between Cat's life and the aspirational animals that could provide the humour. For example, Cat likes to hunt and so does a lion. Naturally, Cat wants a slice of Lion's life as King of all the beasts. That's until Dog reminds him that as a lion, he'd be expected to hunt for hippos, crocodiles and water buffalo! Or, maybe Cat could be a polar bear? Devouring huge fish for his dinner! Until Dog reminds him that he wouldn't enjoy the Arctic, as it's freezing cold! And Dog may just steal his bed if he's not using it!"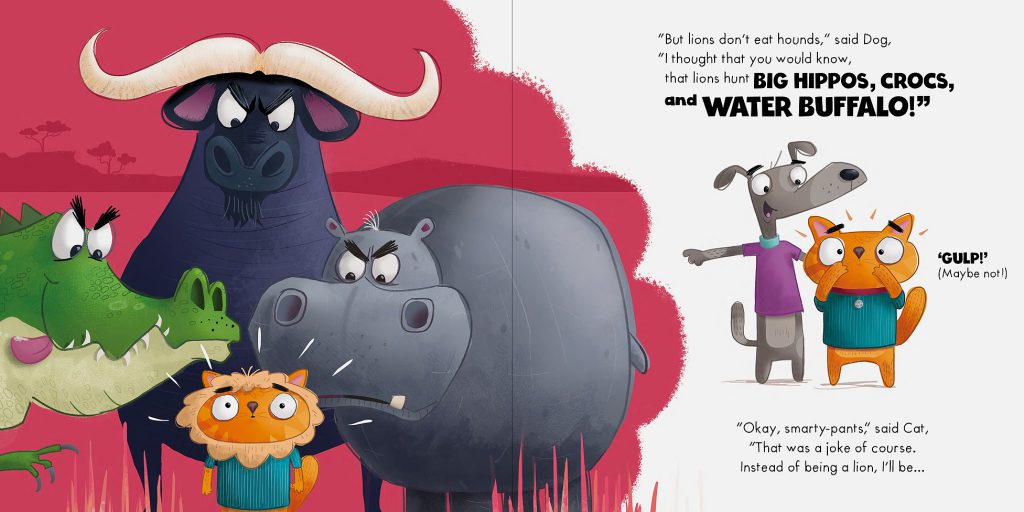 Chris, who did a terrific job bringing the visuals to life said, " There's a bit of Cat in us all I think, and it's nice to be involved in a story that says being who you are is more than good enough. I've really enjoyed seeing the characters develop from tiny rough doodles to becoming fully realised individuals, filling the pages with their personality. Working with Adam on our first book together was great fun."
'It's Boring Being a Cat' is due to be published in Autumn 2021.